Custom Signs, Banners and More
The latest state of the art latex banner and sign equipment will make you look great at your next trade show or event. From in-store displays, conferences, events both indoors and out, will get your customers attention. We offer personalized banners and signs for every setting or occasion. But we have a lot more to offer than banners and signs…
Yard Signs
An Easy and economical way to advertise
Yard signs, referred to as Coroplast signs, are durable signs that have long been used by politicians, contractors, painters, landscapers, realtors, and retail for maximum exposure. For long-lasting signage that holds up to all weather conditions. We will print your custom graphic on permanent vinyl. We use the best materials available for durability and quality, yet cost effective.
Banners
From in-store to trade shows, to outdoor events…Our banners will turn heads and make you look good
We have the latest technology to ensure our banners will be hard to miss wherever you hang them. We produce indoor and outdoor styles in any size you wish. We reinforce the hems and use special grommets for outdoor banners.  For indoor banners we incorporate plastic hangers and special hem tape that allow the banner to hang un curled. Both indoor and outdoor are waterproof and resistant to fading. All of our banners are vinyl based. Lightweight and strong.
Retractable Banners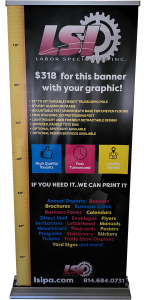 Stand up and stand out during events, sales, trade shows and more.
Retractable banners pull out of and retract into an aluminum base for portability. This feature makes these banners the ultimate signage solution for trade shows, events and conferences. Our retractable banners also provide the ability to adjust the size of your display using the included adjustable pole, from 62" to 80". We include a padded carrying case that makes storage and travel a breeze. LED display lights are also available as an option. The professional, quality printing means your next trade show or event will be your best yet. The quality materials we use will last for many events and years to come. Our retractable banners come preassembled with everything you need – base, banner and carrying case. You supply the graphics…and we will take it from there.
Sign Stand

We offer this unique 11-x-17-inch poster stand for $65 complete with your graphics. The material is anodized aluminum, anti-corrosive. The height is adjustable from 30.8" to 48". The aluminum frame tilts and can swivel 360 degrees. The frame can also be adjusted for horizontal or vertical viewing, depending on your message. A metal base and a plastic tank which can be filled with sand or water to add extra weight for better balance. A rubber band is supplied to wrap around the metal base to protect your floor.We also include a non-glare PVC lens to protect your poster from dirt and UV rays. The snap frame is the easiest, most simplified system to change out your poster. These stands are widely used to display advertisements for hotel & restaurant, retail store, trade show; or announcements in the business hall, administration center, club, school, church & college.
Perforated Window Vinyl
This stuff is impressive. But what is it?…
Perforated window vinyl is your graphics and message printed on perforated, adhesive vinyl. This allows you to utilize your window space for advertising without sacrificing visibility or light. People outside see your important message…while inside you and your employees can see outside. Sort of like a two way mirror. These can be used indoors and out. Most are hung on storefronts to cover the entire window
Floor Adhesive Graphics
Let your floors do the talking
Use the space below your feet to capture customers attention.  Our floor and wall material are ideal for medium term applications. It adheres to carpet, tile, concrete, wood, stone, metal, glass, or painted surfaces. Transform your floor into attention grabbing graphics for promotions or directions. Our floor graphics can withstand most common floor cleaning products, chemicals and methods. that's also slip and wear resistant. Floors must be clean before application and there are no guarantees with floor graphics for any unusual flooring conditions or finish.  Floor graphics help to communicate your safety message to employees and customers alike. Social distancing graphics to remind everyone of the proper safety distance to maintain in your workplace.
Full Color Magnets
Magnets in any size you desire
We print directly onto magnetitic material for the best quality situation. Sizes range from business cards, to fridge magnets, to truck signs. Magnetic vehicle signs are a great way to advertise your business. Magnetic business cards ensure your contact information will be easy to retrieve by your customers. Fridge magnets are the easiest way to have your number handy for those that need you.
Wall Noodle
OK, what the heck is a wall noodle?
Its not how you test spaghetti..what it is: a cool removeable, repositionable vinyl. You can apply it, remove it and re-apply it over and over. This material allows application onto itself. Apply it, reposition it, remove it to re-apply at a later date without leaving adhesive residue behind.